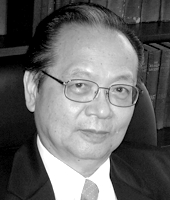 Mr Goh Phai Cheng, Senior Counsel, obtained his LL.B (Hons) from the University of Singapore in 1967. Qualified as an Advocate & Solicitor, Singapore, since 1970, he is currently on the panel of the
Singapore International Arbitration Centre
(SIAC), a Fellow of the
Singapore Institute of Arbitrators
(SIArb), an accredited adjudicator on the Register of Adjudicators under the Building and Construction Industry Security of Payments Act, and a Principal Mediator on the
Panel of the Singapore Mediation Centre
 (SMC).
Our Mr Goh Phai Cheng was a former Judicial Commissioner of the Supreme Court of Singapore and President of the Industrial Arbitration Court. Phai Cheng was also a former Vice-President of the Law Society of Singapore.
EXPERTISE
Arbitration
Sat as sole arbitrator, co-arbitrator and chairperson in institutionally administered arbitrations conducted under the arbitration rules of the Court of Arbitration of the International Chamber of Commerce (ICC), the Singapore International Arbitration Centre (SIAC), the United Nations Commission on International Trade Law (UNCITRAL), the Singapore Institute of Architects (SIA) and also as sole arbitrator in ad hoc arbitrations.
Sole arbitrator, SIAC arbitration, Singapore seat (under SIAC Rules), brand protection intellectual property, trademark and licensing dispute. 
Co-arbitrator, SIAC arbitration, Singapore seat (under SIAC Rules), dispute arising out of claims made promissory notes executed for the international sale of goods. 
Co-arbitrator, SIAC arbitration, Singapore seat (under SIAC Rules), offshore gas processing plant construction dispute.
Phai Cheng is also an empaneled arbitrator with the Law Society of Singapore for their Law Society Arbitration Scheme (LSAS). It provides a quick and cost-effective way to resolve civil and commercial disputes. Instead of litigation, it proposes arbitration to expedite the resolution of complex claims on a confidential basis.
Past and Present Memberships of Panel of Arbitrators
Hong Kong International Arbitration Centre 
The Japan Commercial Arbitration Association 
Indonesian National Board of Arbitration 
Qinqdao Arbitration Commission of the People's Republic of China
South China International Trade Arbitration Commission / Shenzhen Court of International Arbitration 
Mediation
He has been appointed as a sole mediator or co-mediator in mediations conducted at the Singapore Mediation Centre ("SMC") and he is currently an accredited mediator with the International Mediation Institute (IMI).
Adjudication
He has also served as an adjudicator for building construction disputes that were referred to adjudication under the Building and Construction Industry Security of Payment Act.   
DISTINGUISHED NEUTRAL EVALUATOR
Goh Phai Cheng, SC is also on the Distinguished Panel of Neutral Evaluators of the SMC to assist parties in resolving their dispute amicably by providing an independent, objective, non-binding opinion on the merits of their case. All the parties to the dispute have to agree to have the matter evaluated, as Neutral Evaluation is a voluntary process.
PREVIOUS JUDICIAL APPOINTMENTS
Judicial Commissioner, Supreme Court of Singapore
President, Industrial Arbitration Court, Singapore 
President, Copyright Tribunal, Singapore 
President, Patent Agents Disciplinary Committee, Singapore
Chairman, Income Tax Board of Review, Singapore
Chairman, Valuation Review Board, Singapore
Chairman, Hotels Licensing Board 
Chairman, Tenants' Compensation Board
OTHER APPOINTMENTS
Phai Cheng was the Chairman of the 28th Session of United Nations Commission on International Trade Law (UNCITRAL) in 1995.
From 1998 to 2001, Phai Cheng taught building construction law on a part-time basis and conducted courses in arbitration and alternative dispute resolution at the then School of Civil and Structural Engineering of Nanyang Technological University of Singapore where he held the appointment of an Adjunct Associate Professor.
He is currently a member of the Competition Appeals Board, Singapore whose function is to hear appeals against decisions made by the Competition Commission of Singapore.
Appointed by the Minister, he is currently the Chairman of the National Anti-Doping Appeals Committee, which has been established to hear and deal with anti-doping issues referred to the said Committee.
LANGUAGE PROFICIENCY
Phai Cheng speaks fluent English, Mandarin, Cantonese and Hokkien dialects.
Click here to know why his clients are pleased with his mediation service.
Last Updated: 2 January 2018